How to get rid of bed bugs
If bed bugs have a single weakness, it's that their reproduction cycle is slower than most arthropods. By hiring a local bed bug exterminator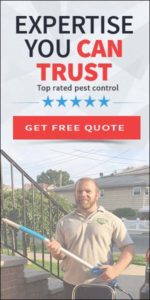 NYC residents will have a top-rated pro who is near by and available to perform multiple intensive treatments to disrupt the bed bugs life cycle and prevent them from reproducing.Instead of panicking and throwing out upholstered items, clothing, furniture, and other valuable objects speak to our experts about scheduling an inspection and available treatment options.
We will eliminate your bed bug infestation.
We've helped people all over NYC by exterminating some of the most difficult bed bug infestations. If you're in Manhattan, Queens, the Bronx, Brooklyn, Staten Island, Westchester County, NY and Nassau County, NY, we're ready to help you defeat bed bugs and get back to healthy, restful sleep. .Call 1-877-410-3259 today to learn more!


One of the best companies ever! Had an intense bed bug problem for YEARS. They came, completed 4-5 treatments, and I am bed bug free for over two years. They stuck to their guarantee, we're easy to communicate with, and are all gentlemen. I love Odin and their work. I highly, highly recommend them.
Chirayu Shah

Gene Axelrod has been a consummate professional throughout our bed bug fiasco. He has been calm, accommodating and extremely communicative. He is very knowledgeable and genuinely wants to help. I highly recommend him for your pest control needs.
Irene Pullman

Tony, their senior technician, did a wonderful job as always! I have been happy with Odin Pest Control. Always great service at a reasonable price. Keep up the great service.
Marylee Reese

Very professional business! Handled all my pest control needs in a timely manner. On time, thorough inspection and applied as needed. They also went above and beyond by explaining what they did and what to expect.
Franklin Hampton

This was my first time using an extermination service and I was thoroughly impressed with Odin. The customer service line was courteous and simple. Arranging service times was easy. In my opinion, fairly priced. They did not try to nickel and dime me but simply told me the extermination plan and there were no hidden fees or uncertainties. Most of all, the mice are gone! Excellent experience from beginning to end. Thanks, Odin!
Peter Ward